Sister Sister
I think my last trip to Seoul destroyed any brain cells left that were capable of creative writing, which leaves me with two options: One– lament the fact that I can't write anything that I deem good enough for public viewing while waiting for a day of profound inspiration that might never come, simultaneously not updating my blog while the guilt of not updating my blog becomes even more consuming until my eventual suicide or, Two– write some mediocre kind of stuff with every day words about every day life in hopes that things will get better, words will turn to paragraphs, and content will just magically appear if I try hard enough. Seeing as I'm not quite ready to die I'll try the latter. In the meantime, I do apologize, I'm afraid drinking the nail polish remover that is soju has ruined me. I'll write about my sister visiting me in Tokyo now.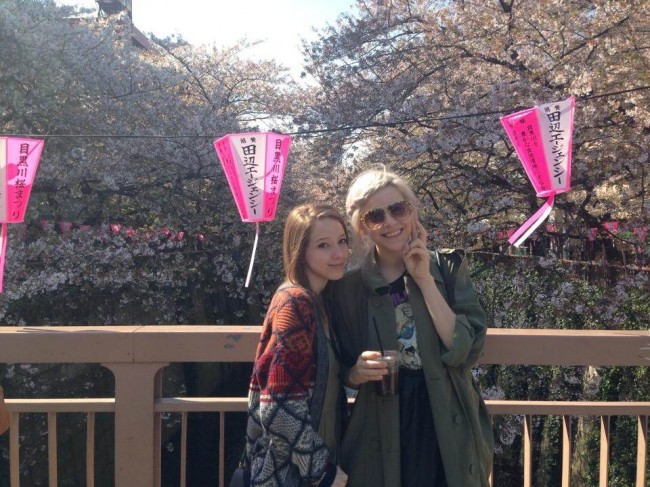 People call my sister Susie, but her real name is Susannah, much like the obnoxious song, "Oh Susannah!" which was, I'm sure, sung to her many times throughout her childhood. I can't help but call my sister Susannah, Susie just doesn't roll off my tongue quite as naturally. Susannah is attending University at NYU, but currently studying abroad in Prague, land of tiny villages and castles. I've never been. Somehow my life ended up in Asia and hers is gravitating towards Europe. We're quite the international family.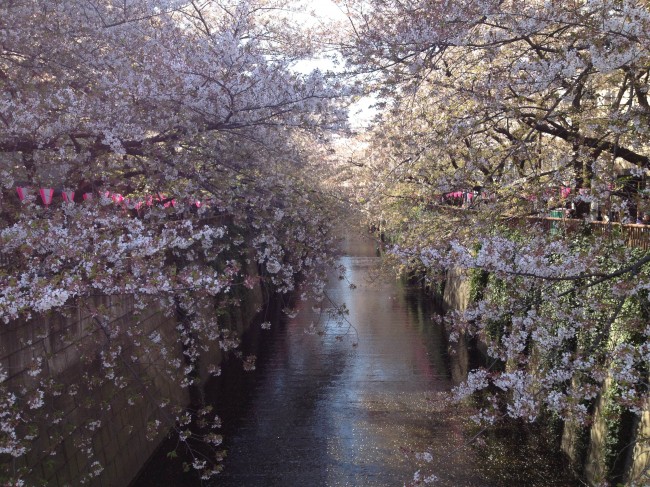 She arrived in Tokyo just in time to see the cherry blossoms before they washed away in rivers and rains. Her boyfriend, also from Nebraska, is studying here over the summer at Meiji University. A couple weeks back I had an adventurous day of helping him move from his temporary hotel (in my neighborhood) to his campus far away. I do thoughtful things like this on occasion to tarnish my family's view of me being a selfish uncaring individual. I am self motivated to not be viewed as selfish, eh…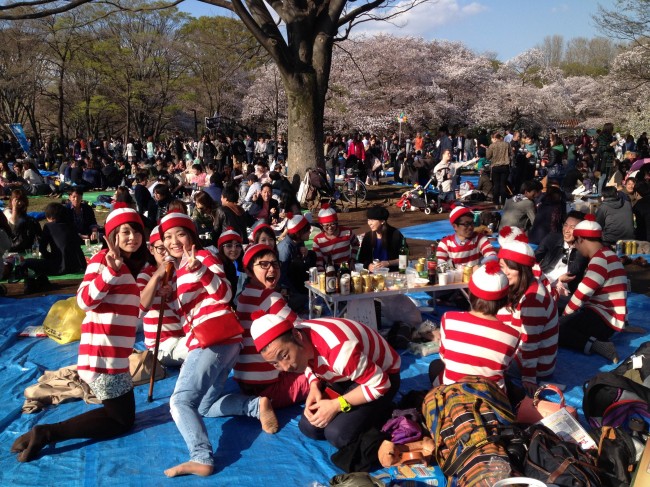 We squeezed in one day of Hanami-ing at Yoyogi park. On this day there was a black hole of cell phone reception that seemed to start once we entered into the mass of crowds of people and beer stands. All attempts to reach friends by mobile communication was lost, and it was only fate that ran me into my pal Bartek, quite by accident, and we continued on in circles together searching for others who might be in the sea of inebriated bodies.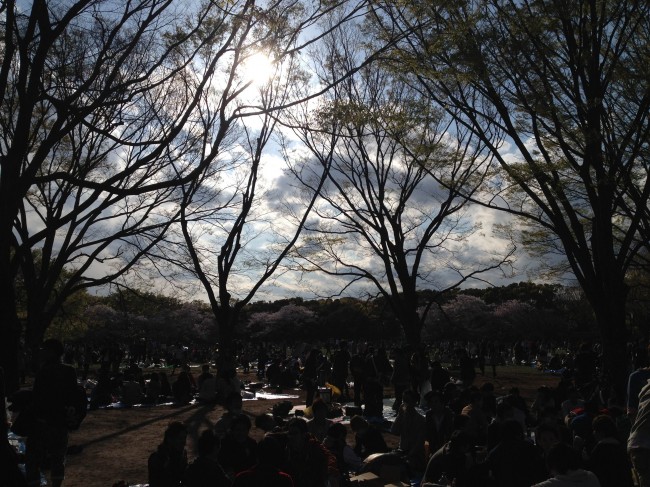 By the time we found others, the sun was falling behind the trees. I quickly stuffed my face with the too many snacks that I brought with me in my purse, and downed a tall boy of beer. My sister and I wore flower crowns. I had on knee high socks and a black and white flower print skirt that was festive but unseasonable. We departed feeling chilled and with heavily filled bladders, walking all the way back to my house before emptying them to avoid the terrifying bathroom lines that wrapped around the park.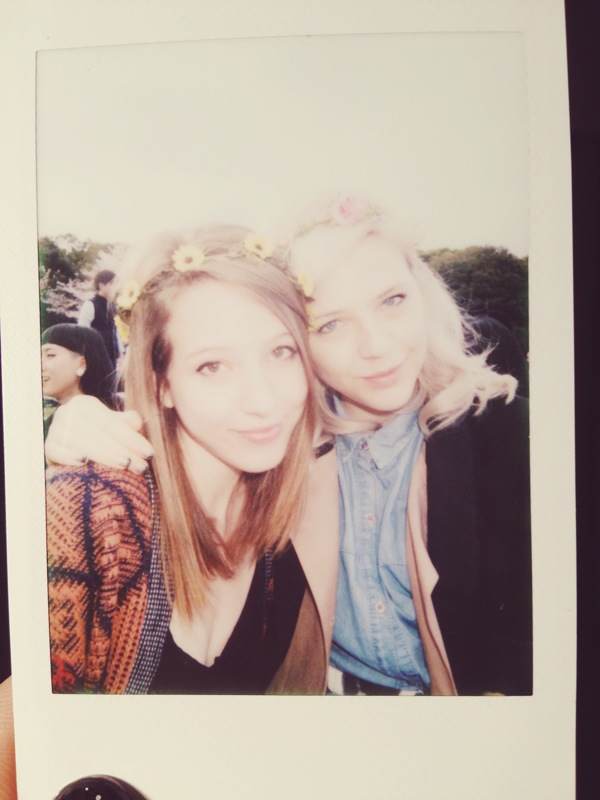 Everyone in Japan thinks Susannah is half Japanese, that lucky little bitch. We don't have a shred of Asian in our blood– though I sometimes tell people I'm part Mongolian because I am part Russian…and well…you know…bad things happened. Look how cute she is with her brown moon eyes and golden hair.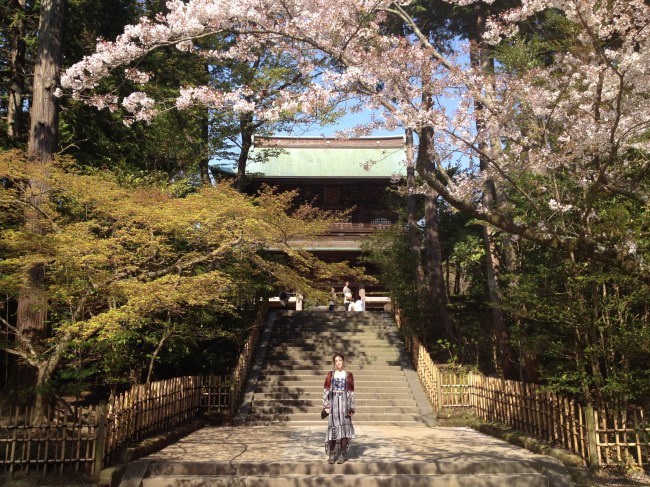 I'm not a very good tour guide. Honestly, if my sister wasn't a teetotaler I would have probably just taken her out all night and left the day time activities to her boyfriend. But since she was falling asleep every night around eleven I was forced out into the sunshine. The majority of our days included lunch and a stroll around, while I walked ahead with my bike and Susannah and her boyfriend Nate followed slowly behind me like baby ducks quacking at each other. Sometimes I'd turn around and say something like, "That's where I fell on my bike that one time," or "I spent all summer drinking on those steps until eight in the morning." 
I managed to pull her away from her boyfriend for one day, sister day, as she called it. I renounced the idea of taking her somewhere new that I had never been, because I was tired. We instead hopped on the train to Engaku ji temple in Kita-Kamakura. The weather was ideal, breezy and warm. There were leaves and blossom petals floating around the temple air like we were in god damn Pocahontas. We scaled the temples sides weaving through grave stones talking about our idea methods of death. I told her I want my ashes scattered at this temple, in Asagaya, around the Imperial palace, the Han River in Seoul, and maybe even a pinch of Sasha dust in Omaha Nebraska.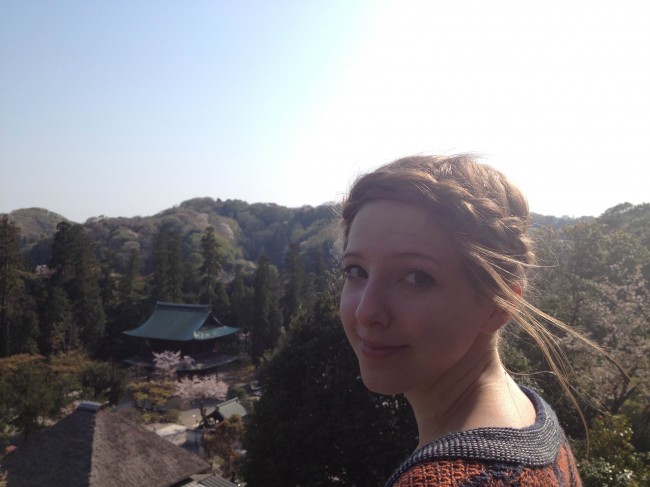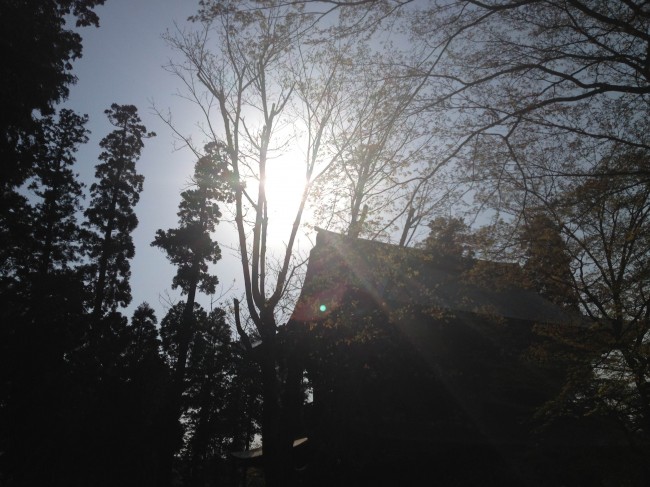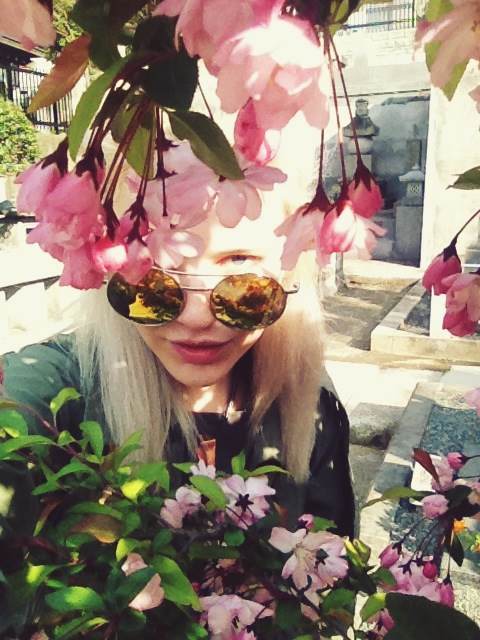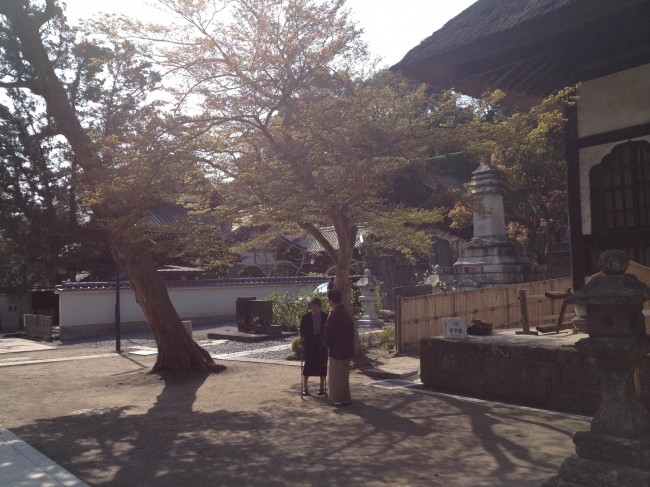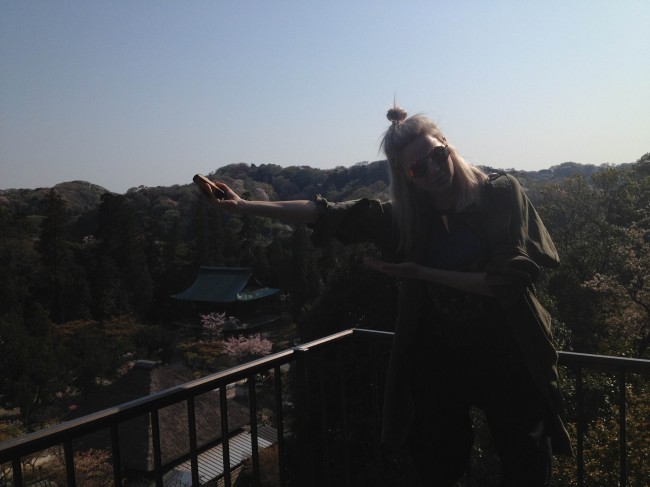 Up the opposite hill is my lover and friend Ozu Yasujiro, one of the best filmmakers of all time.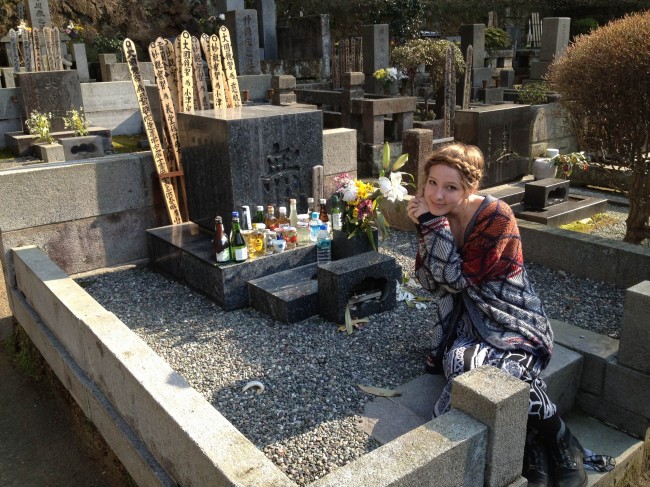 That's him. He's shy.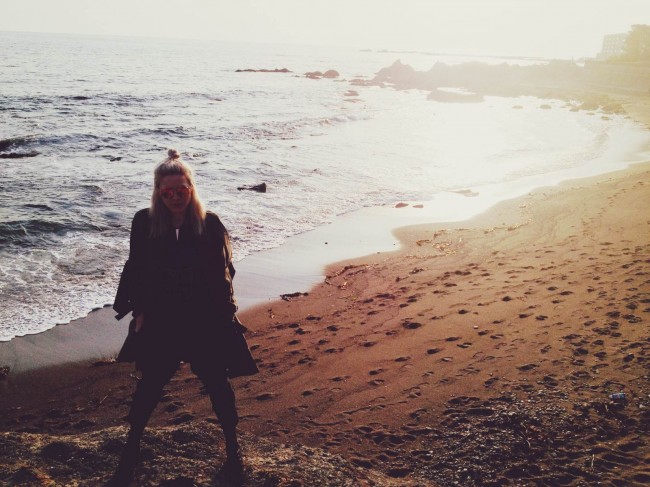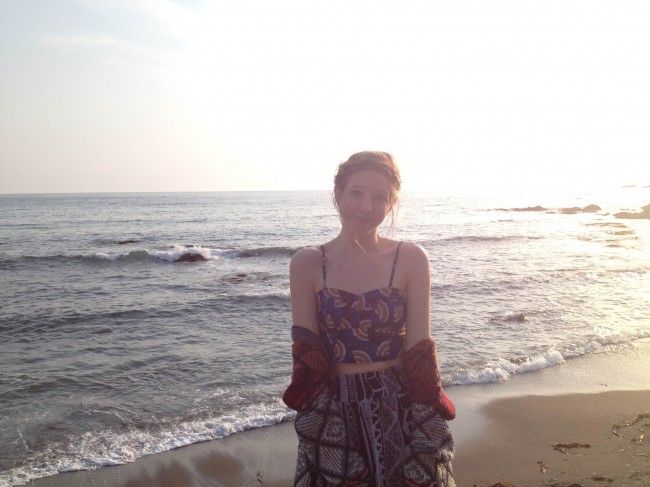 After the temple we headed for Zushi beach, where we took the number twelve bus to Hayama. We sat on the rocks and watched the waves crash, eating ten dollar sugar candies we bought at the temple. We didn't stay long because I was starving and needed to pee, so we walked further up around the coast to the most luxurious Denny's of all time.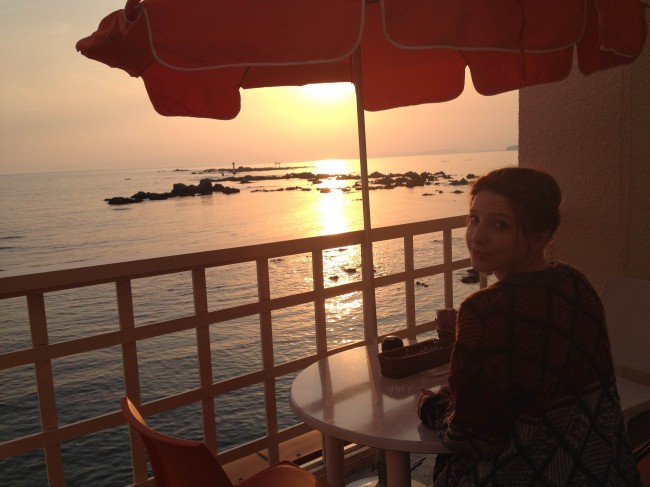 Yes, this is the balcony at Denny's in Hayama. We watched the sun fall behind Fuji Mountain and shared a plate of decadent Denny's pancakes.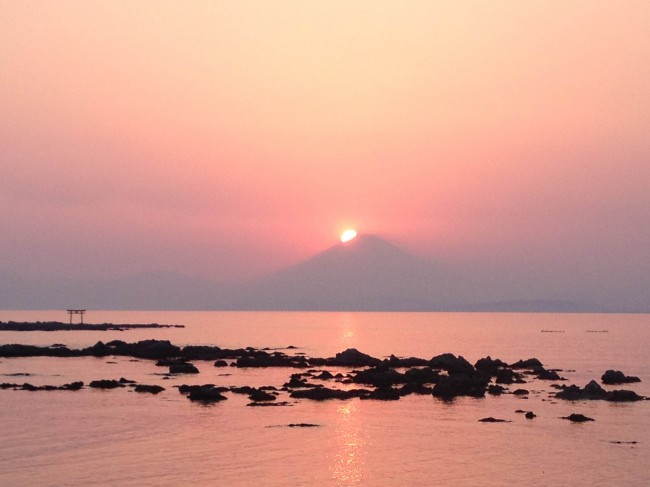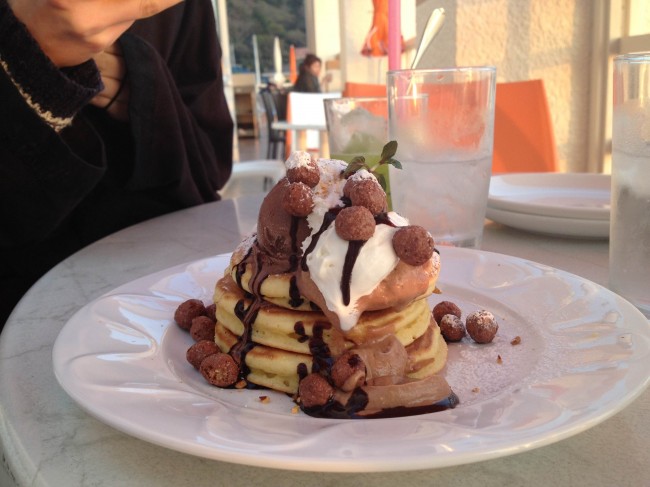 Tired from a day of walking and being outdoors, a very rare experience for me, we headed home to Sasazuka. My sister impressed me all day with her exceptional skill, falling asleep on nearly every mode of transportation that we took that day. On the train home there were two Japanese girls sitting across from us. My sister was asleep, and I kept trying to take pictures of her when her mouth was wide and gaping, but I'd always end up laughing so loudly that she'd startle and readjust herself. The Japanese girls caught on and helped me out, pointing at her when she was at her worst.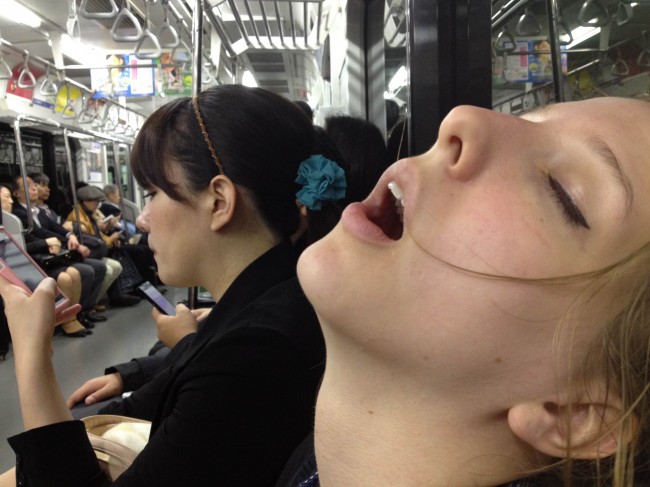 She still manages to be cute even when she looks like she's dead.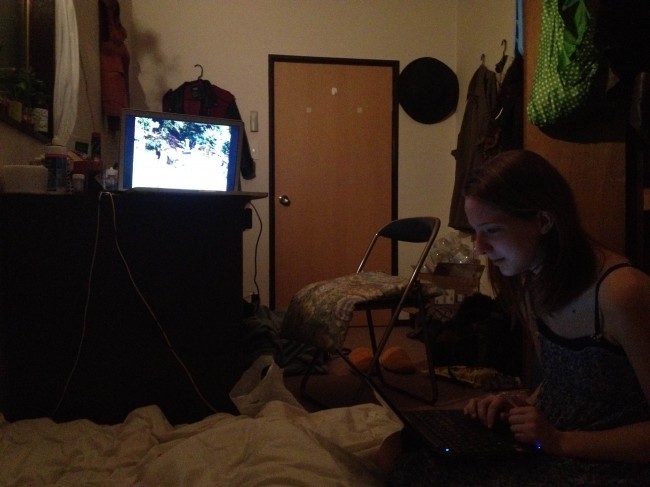 On her last night in Toyko, I left the key for her in our house mailbox while I was out in the evening. Around midnight she texted me, "Did you remember to leave the key?" I did. "It's not here," She says. She retreats to a hotel with her boyfriend, and I arrive home an hour later, desperately searching the ground and nearby bushes for the mysterious disappearing key. It's nowhere to be found. I have no relationship with my roommates in my house, and everyone is asleep, so I'm stuck outside. I discover that one of my roommates has left his sliding door unlocked, so I remove my boots outside his door and stealthily crawl over his belongings, echoing his name in the pitch black to make sure that he is indeed, not home. So I make it back into my own house, but now I can't leave, because I don't have my key, and I'm paranoid that my roommates found it and took it and our plotting a coup against me.
The following day I stay inside watching Netflix and eating all the food in my house as if I am starving and will never be able to eat again. My sister comes by to change and venture out on her last afternoon in the city. I am in my pajamas looking angry and disgruntled, sure that world has turned for the worse and nothing will ever be good again. She brings me iced coffee and I grumble something about hoping she has a nice day, while secretly wishing I could go outside with her. We hug and say goodbye, she wheels her suitcase out into the wide open world. I go back inside and make ramen and mope, counting the collection of whiskey I have that will be useful for later hours of house arrest.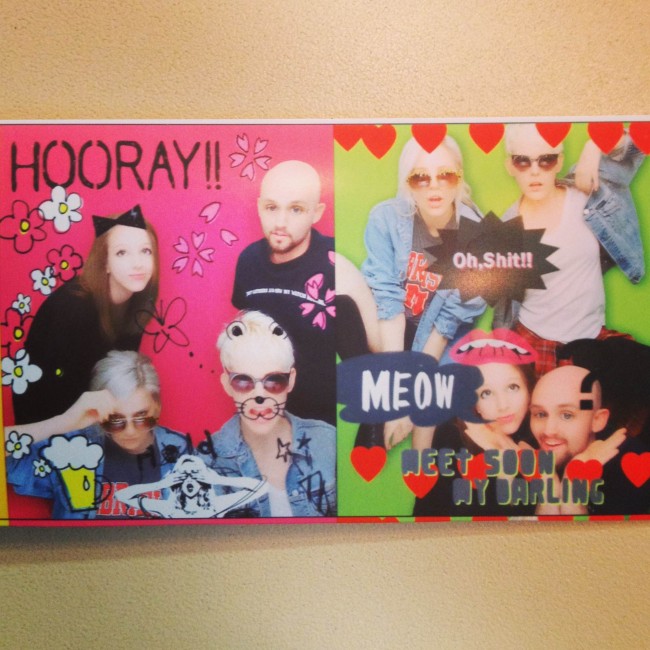 374 responses to "Sister Sister"