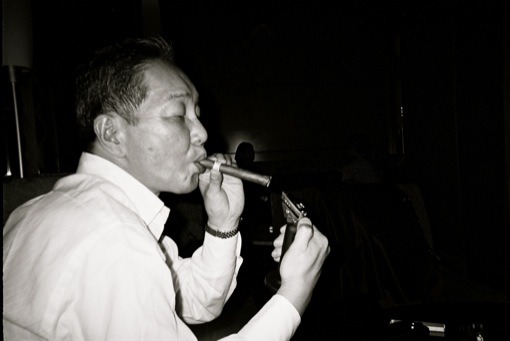 There were two floors at the club where we worked in Roppongi. The first floor – the hostess club – was more casual. It's where the foreign girls worked with Japanese women, age eighteen to early thirties. It had a restaurant that projected the same Charlie Chaplin film every night behind a pristine black marble bar. Another room on that floor held a swim tank where a woman dressed as a mermaid served as a backdrop to the the Kyabakura club.
The upstairs girls rarely met the downstairs girls, though on a few occasions I was sent downstairs by the owner to sit with important foreign guests. The women there were dressed up from head to toe: full makeup, prom style hair, two inch nails, and evening gowns that sparkled while they made drinks for me and the men I accompanied. There was a live pianist, chandeliers, and rumors of an old ghost. Although I never encountered any funny business, it was well known that the downstairs girls were there to perform extra services and welcome unwanted touches. The upstairs workers were talk and drink only – dare to touch my leg and I'd tell you to fuck off and report you to my manager.
Some nights the police would come, and the six of us foreign ladies would be abruptly uprooted from our tables and sent to the restaurant downstairs. There, the wait staff would swiftly bring us drinks and hors d'oeuvres in attempt to make us look like a group of normal ladies out on the town. But the police knew, and so did everyone else.
Working as a hostess as a foreigner is illegal unless you are married to a Japanese citizen; something about keeping Japanese traditions to Japanese people only. Hostesses are a kind of modern day geisha, paid a decent hourly fee to sit, look nice, and play therapist for sad and lonely old rich men. We also make great decorations for after work drinking events. Sit a pretty girl between you and your asshole colleague with a bottle of whiskey in the middle of us all and you're bound to have more fun than if you are stuck with a bunch of sausages at a normal bar. People, mostly ex-boyfriends, have found this concept terribly confusing. Why would I pay to talk to a girl? For most men, that girl at the bar doesn't want to talk to you. Japanese culture addresses that with hostesses.
I have always enjoyed talking to strange men over alcohol, whether they be obnoxious or pathetic; I might as well get paid for it.
The girls and I weren't allowed to choose who we sat with. It was up to the mastermind of the club – the manager, Nomi san. A middle aged man with an impeccably fit suit and his long black hair tied neatly in a ponytail, Nomi was renowned for his serious personality. We lived to force a cracked smile on his stern, foreboding face. His responsibilities included getting to know each of us so that he could best play matchmaker for the customers of the evening. He moved us from table to table in a sort of merry-go-round: if a customer liked us at one table, they could request to have us back for another fifty dollars (thirty of that in our own pockets).
At Nomi's club, I met AJ from the Backstreet boys, a famed sumo wrestler, and my dear friend, June Kusano.
On the night we officially met, I recognized June from previous nights at the club: a sixty year old man with thinning hair and a pink thong peering out from the top of his rugged denim jeans. June looked like a potato. He was in his early sixties and around my height, with the blossom of an elder's belly hidden beneath is shirt and skin tinted a sallow yellow from a life of alcohol addiction disguised as work drinking.
Once Nomi san sat me with June, I rarely met with anyone else. He came to my work every night from ten p.m. until two a.m. and requested me to talk to. I'd like to think it was because I was charming and fascinating, but it was probably because he had an estranged daughter my age, also a writer, who he missed. He drank red wine and massaged my hands at my request, telling me about his career. He first worked as a construction worker and eventually built his career as a real estate mogul. After years of drinking a bottle of whiskey a day at work, he retired in a last attempt to save his health. His wife had divorced him, his daughter kept him at a distance, and his son was a reckless artist attending University in California, the sum of which left him alone in Tokyo in his three bedroom apartment.
I've never been ashamed of the work I've done. People have to pay their bills somehow. When a friend was hosting an event at a popular club, I invited June as my date. It was 1920s themed, and everyone was encouraged to dress up. June arrived in a full tuxedo and bought a bottle of champagne for me and all my friends. They were bewildered by my choice of company but not surprised – my reputation as a weirdo preceded me. We danced and his face lit up like a drunk at an open bar.
I grew very fond of June. I was living the Murakami dream, exploring Tokyo with an older, uncreepy man friend to tell me stories and accompany me on adventures. When my tourist visa was expiring and I needed to leave the country and come back, we flew to Guam together. We stayed at the Hyatt in two separate but adjacent rooms. Meet me for dinner later. Otherwise, let's not get in each others way, he said. I found him outside by the pool in a white cabana shirt sipping a beachy cocktail. When I annoyed him, as I often did, he'd take off his shoe and pretend to whack me over the head with it. Once, I took the shoe and threw it far away so he had to retrieve it, hobbling away from me in a fit of laughter.
He replaced both my shoes and my wallet, not because he wanted to buy me a gift but because he said he was sick of looking at my crappy old things. He always looked older than his age when I met him in the daytime, but he'd walk with a haste that said I don't really need your company.
On my birthday, he put me up in the Ritz Carlton for three nights all expenses paid. He left me alone to invite my friends and tally up the room service and massage treatments. On the last day, he came to meet me at the hotel checkout and paid without saying a thing except Happy Birthday.
When I complained about being unsure finding my way in life, he always had the same advice: step by step.
Eventually I had to leave Tokyo to go back to New York. June and I kept in touch via email for a year and spoke every so often with short and curiously caring messages. He'd broken up with his Estonian girlfriend, the one who asked him for money transfers and desperately tried to get pregnant with his baby so that she could be the mother of his child and estate.
The Tohoku earthquake of 2011 happened while I was working in Paris. I ordered an espresso at a small pub that showed the news and sat crying until the other patrons looked uncomfortable. I was worried about him and my friends in Japan. I felt an inexplicable sadness being away from the place I considered my home during its time of peril.
And so I emailed June, once again determined to return to Tokyo. Delighted, he offered to buy my ticket and host me in his home. A few days later, he asked again for an update on my schedule and mentioned that he had been hospitalized for his arm.
Hi, dear sasha.
How are you?
I have a little problem on my right arm and I am in a hospital from the end of the march.
Maybe I'll go home next week.
Anyway, Tokyo is not so dangerous about the nuclear accident.
If you wont to come to Tokyo, I could buy your air-ticket and I care of you.
So, you have to make your plan and sent me your scedule for me.
I miss you and love
I wrote back, concerned. I wrote back again, but he never replied. I searched through my phone for his number and called it via Skype. A voice answered and said June had passed away. I thanked the man, hung up the phone, and cried.
I was unable, nor formally invited, to attend his funeral. But I heard that along with his family members, there was a long line of hot foreign hostesses paying their respects.
Miss you, Junebug.
Written by: Sasha Owen-Longfellow
Edited by: Susie Rand