DONT GO HERE
DON'T GO HERE
Part 2, Berlin
Written by: Sasha Owen-Longfellow
Edited by: S. K. Rand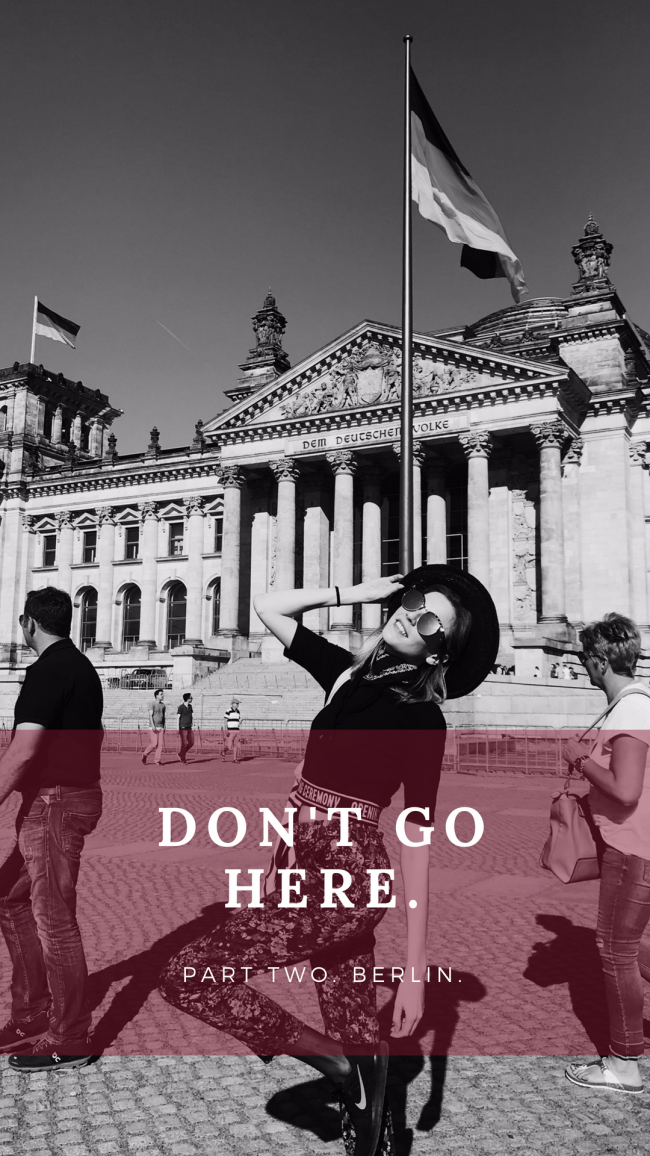 Preface:
In every city I've lived in, I've made my second home at a bar or coffee shop. I find somewhere I like and go frequently until the regulars can no longer avoid my presence and come to accept me as one of their own. I love these places. They are my friends and they are my family, and, quite frankly, I don't want your shitty ass taking up space at my bar unless you're worthy of being there. So let's make a deal: I'll tell you a story about my favorite places, and you take a real hard look in the mirror and decide if you're a respectful person. If you think you are, then you can follow my terrible directions and try to find it.
I quickly became accustomed to the confused, blank stares of fellow Berliners when they heard that Fiwoo and I don't like going to clubs.
Then why did you move to Berlin?
I didn't realize enjoying swallowing unspecified drugs from your friend's friend's friend or choking down smoke machine clouds was a prerequisite for wanting high ceilings and affordable health care. I'd rather stay home or go to a bar and talk to strangers.
Berlin's club culture has made it harder to meet people than I anticipated. Not because Germans are colder than your average Midwestern (well, they are), but because it's been a struggle to find an intimate bar where conversation is invited. As a couple, no one approaches us. Throw in the fact that we are a few months away from living in poverty, and a night out spending precious petty cash makes an evening of Netflix and forty cent grocery store beer much more appealing.
I flip through my mental rolodex of people I knew living in the city: a woman I sat next to on an airplane once on a flight to Tokyo, my noisy mug-stealing roommates, and a couple I got drunk with in a different lifetime five years prior.
At that time, I was living in New York and my writing career was doing well thanks to a second chance meeting with Jared Leto at the Alexander Wang after party. He uploaded photos of us online. This led to a lot of unwanted attention from violent fans, but also introduced a host of other people to my website who enjoyed my writing. I briefly occupied a bizarre existence as one of those It Girls before Instagram. I worked for a fashion PR house where I contributed to different brands' websites as a content creator, and I covered fashion week events that lost their luster when attending them was my job. I was miserable.
On top of that, I had just broken up with a boyfriend. To escape my wallowing, I rekindled a friendship with my most long term ex, Daniel. He had moved to the Lower East Side and decorated his new apartment with all of our old things: our dresser, our plants, our bed sheets. We met up weekly and found comfort in our history. One evening, we drank with a couple who lived in Berlin and were visiting New York for a vacation. We talked with them for hours and dragged them to the popular Chinatown karaoke bar, Winnie's – the place where you select songs out of a large binder filled with laminated pages, pay a dollar to a grumpy looking staff member, and sing your guts out on a small wooden stage next to a blown out speaker.
I contact them now that I live in Berlin. They're now married and still live here. The couple consists of the woman, an architect from Lithuania, and her husband, a pharmaceutical tester from Switzerland. I asked them to meet up and they suggest a fancy cocktail bar in Alexanderplatz.
They order orange-colored wine spritzers that smell like PEZ. Fiwoo and I drink cheap beer, and our friends graciously cover our tab when it becomes apparent that we are doing less than well.
Did you see that little bar under the train tracks? I ask. It reminds me of Japan, cramped and poorly lit, with flashing lights. They know the one I am talking about – an apparent landmark, one of the few remaining old bars in a bustling tourist district. Lamenting taking the train to another location, we walk there by foot.
Inside, there is a rainbow colored disco ball on the ceiling and only fifteen cramped chairs to rest your tush. The middle-aged bartender DJs classic hits by Tom Jones and Joy Division – the soundtrack to the Neverending Story – and later he turns to powerhouse ballads from Germany's Lady Gaga. A man brushes his hand against my boyfriend's jacket. It's vintage military, he says.
I tell Fiwoo, It's not your jacket he's interested in. We are at a gay bar. I don't know if that's an official designation or if the bar just ended up that way, but there are many elderly gentleman and older butch women. One man looks like Mike Pence. He shows me the way to the woman's toilet hidden in the back, past the storage room.
When I come back, another grandpa named Werner has made acquaintances with my friends. He wears a black ball cap, a blue t-shirt, and worn-in jeans. His face is like Cotton Hill: two beady little eyes and an almost toothless looking grin. He wonders as to how a Swiss, Lithuanian, Korean, and American have wandered into his bar, but he's friendly – beyond friendly – and begins to drape his arm over my friend's husband's shoulder. We are having a good time; the whole bar is alive with arms waving in the air and voices singing along with the music.
I grew up watching shows on a tiny tube television with an antenna and a handful of local channels. Every night it was the same line up: Seinfeld, Star Trek Voyager, M*A*S*H, and Cheers. The bar where everybody knows your name; I didn't know then how deeply it would shape my adulthood.
In its truest form, a bar isn't a place to go and get intoxicated or forget your life. It's a safe haven of friends from all walks of life who listen to one another, share in your highs and lows.
A club, to me, seems built to provide the opposite environment: a place to escape, to meet people you'll come to forget. The mere thought of waiting in line three hours to go to a club makes me tired. I don't wait in lines and I don't pay entry fees. I don't care about Djs or being part of an underground scene. I'm looking for real connections – my Cliff Clavin, my Norm, my Fraiser, Sam and Dianne.
So far I've got Werner, who gives me a peck on the lips when he hugs us all goodbye.