LATE BLOOMER: JENNIFER MCLAWHORN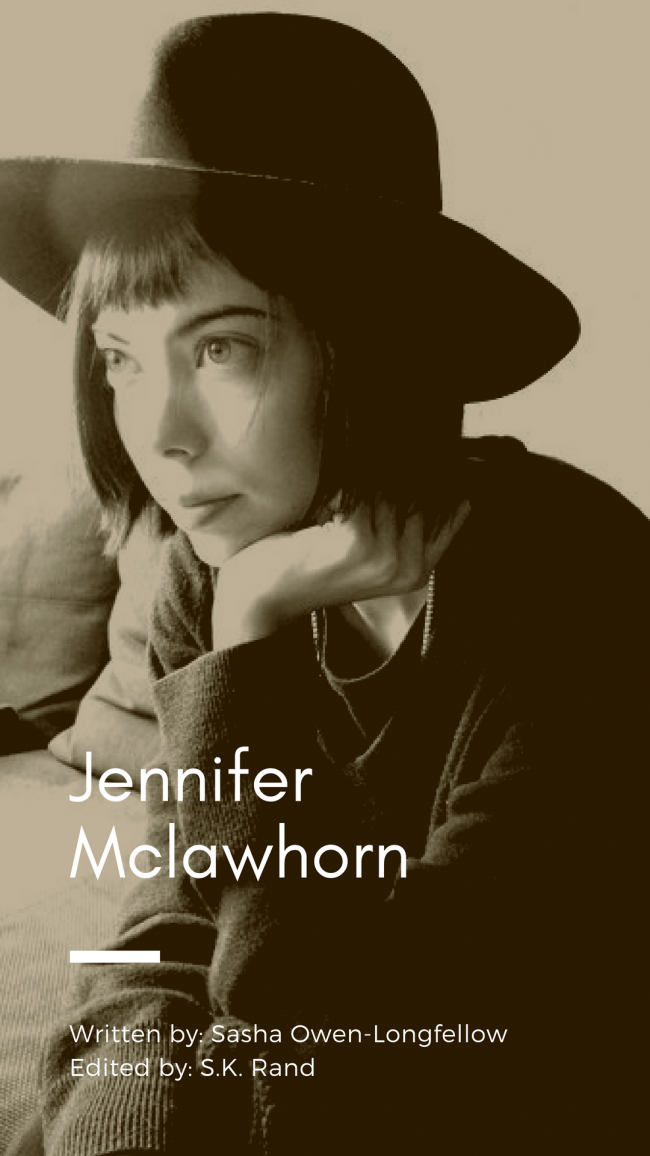 In 2002, I signed with my first New York modeling agency. In that red-walled box of an office, I met Jennifer Mclawhorn for the first time.
I was oddly responsible for my age, and as a teenager I tended to gravitate towards my friend's parents for conversation. Jennifer was shy, so I spoke mostly with her mother, Jeanne. We went on castings together because she seemed to know where things were, while I, fresh in the city with a fold out map of the New York subway, was lost.
It wasn't until we retreated to our hometowns that Jennifer and I began to talk. She was born and raised in Greenville, North Carolina, and I was slogging through the suburbs of Omaha, Nebraska. We spoke on AOL Instant Messenger and read each other's LiveJournals. She told me about her homeschooling (I thought that was weird), and I told her about my life at Millard West High School. Then we'd meet back in New York again, where she was quiet and I talked with her mother.
"I remember my mom telling me I should be friends with you, but I thought you were very loud, and I was weirded out by your Spongebob Squarepants Sketchers and prosthetic elf ear."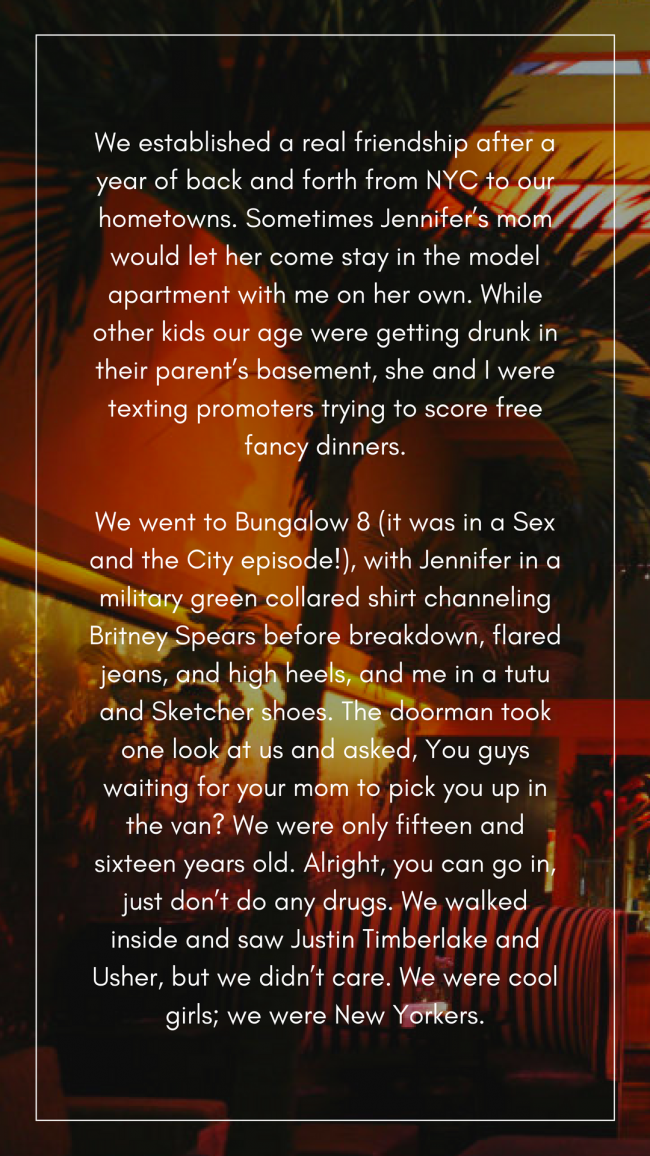 The modeling industry is renowned for its bad behavior. The majority of models start when they are underage, and they are entrusted to the staff and the bookers of their agencies. It is the adults who are charged with providing the young models advice and a safe place. In reality, we often find the opposite: the people that are supposed to help young models feed them to the wolves. When Jennifer was direct booked for a job, they flew her to New York for the weekend shoot:
"They put me up in a hotel, and when I finished the job my agent called me and told me that the client complained about my hips not fitting the clothing and that I should work on that before coming back. I broke down in the bathroom and sobbed. That was my last job modeling for years."
After we graduated high school, we spent years apart. Jenn went to school for photography in Boston, taking the Fung Wah bus on the weekends to New York to visit a friend who would introduce her to the owner of a photography studio where she would eventually work.  When she finally made the move, she lived at a hostel on Bowery called the White House, a former homeless shelter.
"There weren't real rooms, more like stalls with the top and bottoms open with mesh coverings. You could lock your stall but still hear everyone around you. I left after I realized there were bedbugs and I was hearing the same girl cry herself to sleep every night. I remember the first night sitting in the hostel thinking 'I really hope the studio staff remember telling me to move because I'm here now.'
They ended up hiring me full time after two months. I was shooting model tests on the side and then cocktail waitressing from 10pm-3am, but somehow I was never tired. I was so excited to be living in New York, and also I was seventeen. I hated the way the modeling industry made me feel about myself but I loved photography, and it allowed me to meet the right people. I'd probably be working at K-mart photo studio in North Carolina if it weren't for that."
After six months at the White House, she moved into a studio on Thirteenth and Second Avenue with a friend – "Billy Jean Bud Jones." They shared bunk beds; Jennifer slept on the bottom. She met her first New York boyfriend, a Russian boxer and photographer, and changed night jobs to a hip Lower East Side club called B.East. Through all our collective years working as cocktail waitresses on and off, neither of us know how to properly or elegantly open a bottle in front of a guest.  
"…I was opening a bottle and the cork flew up and hit a lamp, ricocheting to hit the woman I was serving. I also dumped an entire tray of beer on someone when they stood up abruptly beneath me."
It was around then that Jennifer started to assist a variety of photographers directly. She became a digital technician, learning how to retouch photos on the side. She felt more and more of a demand for retouching work – people requested her with increasing frequency. She could do it from anywhere and make a decent salary without the burden of being tied down to a routine work schedule.
"When I started learning how the technical side of assisting and retouching I was constantly hiding in the bathroom Googling how to do things I hadn't learned yet to save face in front of my superiors. I guess I went a little too frequently because a coworker asked me if I had a UTI."
She moved to Greenpoint in Brooklyn, into a two bedroom apartment with a milliner opposite a small park. I came back to New York from Asia at some point during her years living here. It was the dead of winter, and my visa application to work as a staff member of a modeling agency in Japan had just been turned down for lack of experience. We shared her bed beneath the leaky skylight and sat in front of the space heater to keep warm. We wore winter jackets inside to save costs on the heating bills, and I bought two hot water bottle heaters that we kept stuffed in our pants at all times, pregnant with boiling, burning water. She'd wake up earlier than me and start her retouching work while watching E! Entertainment repeats of Sex and the City. Around eight we'd hit the bar next door, where we would drink Jameson on the rocks until the bartenders removed us. Then we'd walk to the nearest open deli and buy peanut butter and jelly sandwiches on a hot toasted roll, go home, and watch more TV until we fell asleep.
A year later, a friend who worked at Hearst contacted Jennifer about a temporary position working in the photo department that would eventually turn into working full time. She was hesitant to give up her freelance life and work a regular office job, but the stress of reaching out to her clients for payment every week was so much that a life of regular paydays seemed to outweigh working from the couch.
Jennifer entered as a photo editor for the content studio, and over the three years working at Hearst, has graduated to photo and bookings editor. Her job is to meet with and book models for the editorials that Hearst produces for fashion magazines and online brands.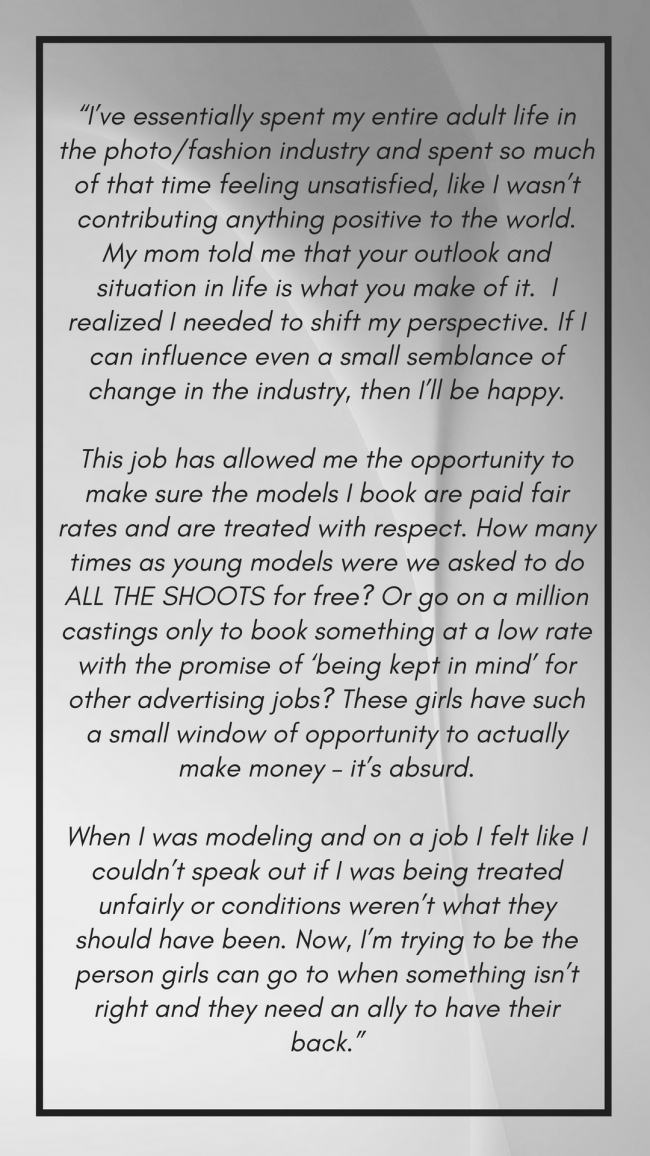 Jennifer is part of a growing number of people who are working from the inside to change the modeling industry. People like Sara Ziff, who started The Model Alliance (a company working to bring labor rights to models), are rallying to reshape the way we think about body image, retouching, and respectful consideration of all people in the fashion industry.
"I recently was asked be an Advisory Board Member of an organization called Consider the Image. It's a network of industry professionals that's looking
to give thought to the bigger picture of how we produce commercial imagery. This includes casting women of all ethnicities and sizes and opening up a dialogue about how retouching is used. It's not about saying no retouching, but more that we should be using the technology in a thoughtful way that doesn't alter the charm of a woman's natural figure and features."
I live in Berlin now, but Jennifer and I talk every day. We live opposite lives in different parts of the world – getting older, watching our faces sag and our nipples tease us like Olympians on diving boards, ready to take the plunge into the earth. It's been sixteen years since we met in New York, but it feels mostly the same as it did after we met in that red office. We talk on instant messenger, she reads my blog, and I listen to her stories of life at a corporate job and free tampons in the bathroom. I fly back to New York when I can, where we are mostly silent, because best friends don't need to have anything to say.